Dutch White Clover
Trifolium repens f. hollandicum
With smaller leaves and short height, these are best for in grazing and unmowed areas.
Find A Dealer
Dutch White Clovers are best suited for Lawns and Wildlife blends.
Dutch white clover fits in the middle of the white clover family. While some might refer to this species as simply "white clover", there are actually multiple types of white clovers, botanically divided up into three distinct, true breeding polymorphic forms based mainly on leaf size. These types are:
Very small leaved, wild type (T. repens L. f. repens L.); also called weedy type or micro clovers.
Small-to-medium leafed common type (T. repens f. hollandicum); also called intermediate or Dutch white. 
Large leaved, ladino type (T. repens var. giganteum); simple called Ladino.
The weedy wild types are not too commonly sold as seed, although some "micro clover" seeds may be of this type.
More familiar to most white clover users are the Dutch white and Ladino types. The key differences between these two have to do with height, stolon density and flower formation. These areas also help determine the best application for each.
Ladino-type white clovers.
Ladino types are usually taller, have less stolons and flowers mostly in the crown of the main plant. For hay applications, ladino types usually produce more tonnage. Examples of these are Haifa and Seminole. These can be planted for pasture, hay, haylage, cover crops, wildlife, green manure and erosion control.
Dutch White/Intermediate-type white clovers.
Intermediate-type white clovers are lower growing, tiller more aggressively, and flower profusely from their stolons. These types are great for grazing, as they are more likely to spread, handle traffic stress, and naturally reseed better than their larger-leafed cousins.
Since all white clovers are of the same botanical family, each of these types can be crossed with each other. The most marketable results are varieties which merge the strengths of each type. For example, a grazing-type Ladino can be the result of crossing predominately large-leafed plants with medium-leafed plants that have higher stolon density. Similarly, Dutch white types are crossed with Ladino types to improve forage yield.
A very adaptable clover.
White clover is widely adapted. It can be found growing naturally from the Arctic Circle to all parts of the temperate regions of the world. White clover is best suited to soils which have good moisture holding ability. It is quite tolerant of traffic and a natural spreader. In general, it is considered a perennial crop, although some of its longevity may be attributed to its own reseeding capability. White clovers prefer soil within pH levels of 5.8 - 7.0.
Great for grazing.
White clover may be the most important and widely used pasture legume in the world today. White clover is tolerant of close grazing, which makes it a good choice for many pastures, but only the intermediate and Dutch Whites are well-suited for hay situations. This grazing ability is achieved by its high seed production (reseeding) and an extensive network of creeping stems called stolons.
What we recommend.
Renovation white clover is an excellent option for grazing, multipurpose hay/pasture and wildlife applications, due to its larger leaves. For lawn applications, we recommend common Dutch White, typically sold as variety not stated.
Coat for Optimal Performance
For optimal performance, Dutch white clover should be inoculated with Rhizobium leguminosarum biovar trifolii. This is best achieved with Nitro-Coat®.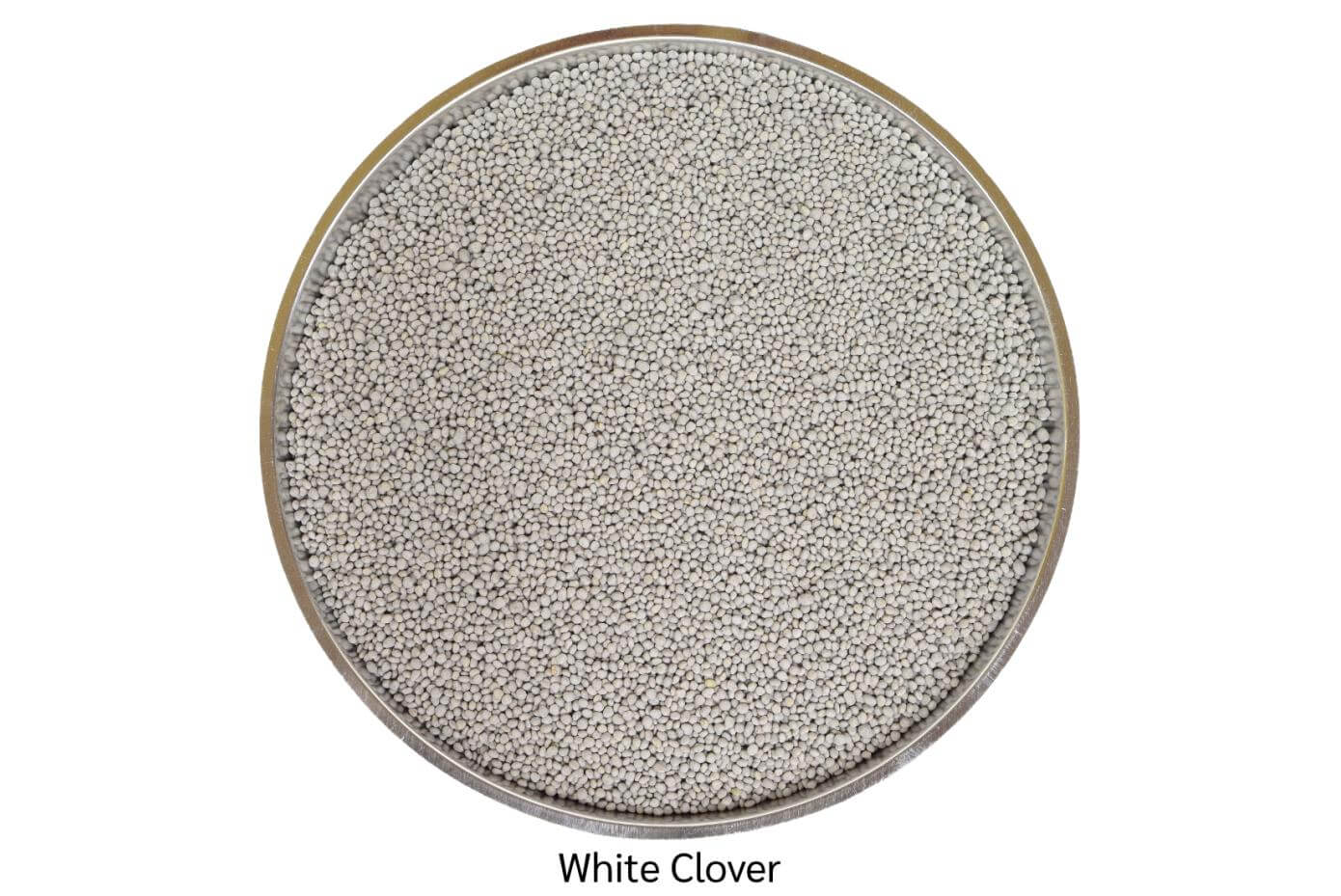 Dutch White Clover Specifications
Planting

Zones

2 - 9

Longevity

Perennial in zones 2 - 8; Annual in zone 9

Ease of Establishment

Moderate

Seeds/lb

700,000

Seeding Rate - Straight

2-4 lbs/ac

Seeding Rate - Mix

2-3 lbs/ac

Seeding Time

Fall (October - November) or late winter to early spring (February - April)

Seeding Depth

1/8 - 1/4"

Seeding Method

Broadcast or drilled (preferred)

Method of Killing/Suppression

Mowing; grazing; chemical

Optimal Germination Temperature

Night temperatures > 40°F

Seedling Emergence/Vigor

Fair

Reseeding Potential

Excellent

Root Type

Taproot (seedling); fibrous (stolon nodes)
Usage

Grazing Potential

Excellent

Hay Potential

Good

Use with Wildlife

Excellent

Use in Orchards

Excellent

Use with Row Crops

Excellent

Use with Other Grasses/Legumes

Excellent

Bees/Beneficial Insects

Excellent

Compaction Control

Good

Erosion Control

Excellent

Weed Suppression Potential

Excellent

Green Manure/Cover Crop Use

Good

Spreading Capability

Excellent

N Contribution Potential

Good

DM Potential

Good

Forage Quality

Excellent

Harvest Time Frame (late/early/year-round)

Year-round

Number of Harvest/yr

5 per year

Other Comments

Limit nitrogen fertilizer use, and use defoliation by grazing, mowing, or chemicals to reduce grass competition; never use Grazone herbicide both before or after establishment.
Tolerance

Bloat Risk

High

Disease Resistance

Good

Insect/Nematode Risk

Good

Cold Tolerance

Excellent

Traffic Tolerance

Good

Heat Tolerance

Fair

Drought Tolerance

Fair

Shade Tolerance

Good

Dry Soil Tolerance

Fair

Wet Soil Tolerance

Excellent

pH Range

5.8 - 7.0

Required Fertility (P,K, other nutrients)

P, K, Ca, Mg needed; minor especially Mo, B also needed.
Planting Map