Subterranean Clover
Trifolium subterraneum L
Subterranean clover is an annual clover that produces a thick cover in areas with Mediterranean-like growing conditions.
Find A Dealer
Easy to recognize.
Subterranean clover, or simply "sub clover", is a low-growing annual that forms a dense cover due to a low growth habit and extensive stolons and leaves. This makes sub clover an excellent weed suppressor, even better than vetch. Due to its low growth habit it can even produce seed under heavy grazing pressure which is an added bonus to insure reseeding in grazed pastures.
Sub clover leaves are easy to recognize being heart-shaped and hairy with the majority bearing a black spot. It possesses small white flowers that give rise to a large, "burr" type seed bearing structure that has a unique ability to force itself into the soil thereby actually reseeding itself. Its seed are also the largest of the commercially available clovers.
Grows in wet conditions.
Tens of millions of acres of sub clover have been planted in Australia and it has become one of the most important legumes in that country's grassland agriculture. In North America, sub clover it is best suited to climates that have mild, wet winters; especially in states like California, Oregon and Washington. It has also shown good performance in southeastern Coastal Plain area from southern Texas to Florida. Sub clover is generally more tolerant of low fertility and shade than most clovers. It is best adapted to heavier textured soils with good moisture holding capacity. A pH of 5.8-6.5 is recommended for optimal performance.
Good eating.
Sub clover makes most of its growth in mid-spring, but its total seasonal yield is usually not as high as arrowleaf clover, berseem clover, or crimson clover. Sub clover can produce between 3,000-8,500 lbs. DM/A annually as a thick mat of leaves, stems and petioles.
Nitrogen producer.
Sub clover can contribute up to 200 lbs. N/A making it very useful as a short rotation cover crop and annual pasture component. In order to achieve optimal nitrogen fixation ability, subterranean clover needs to be inoculated with Rhizobium leguminosarum biovar trifolii. This is best achieved with Nitro-Coat®.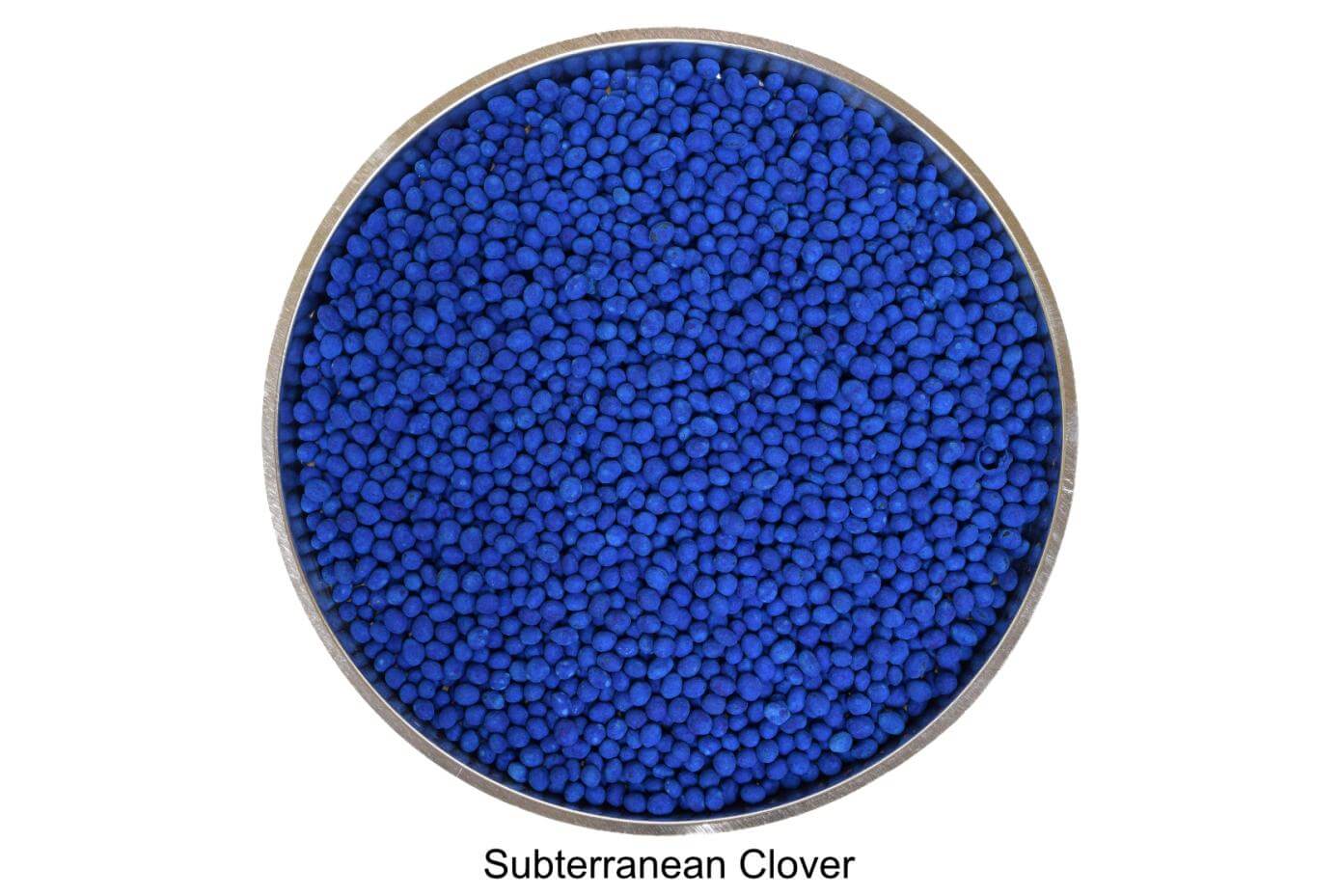 What we recommend.
Most subterranean clover is sold as variety not stated.
Subterranean Clover Specifications
Planting

Zones

8-9

Longevity

Annual

Ease of Establishment

Excellent

Seeds/lb

70,000

Seeding Rate - Straight

10-20 lbs/ac

Seeding Rate - Mix

8-15 lbs/ac

Seeding Time

September - Early November

Seeding Depth

3/8"-1/2"

Seeding Method

Broadcast or drilled (preferred)

Method of Killing/Suppression

Mowing; grazing; chemical

Optimal Germination Temperature

Night temperatures > 50°F

Seedling Emergence/Vigor

Excellent

Reseeding Potential

Excellent

Root Type

Tap
Usage

Grazing Potential

Excellent

Hay Potential

Poor

Use with Wildlife

Good

Use in Orchards

Good

Use with Row Crops

Excellent

Use with Other Grasses/Legumes

Excellent

Bees/Beneficial Insects

Fair

Compaction Control

Good

Erosion Control

Excellent

Weed Suppression Potential

Excellent

Green Manure/Cover Crop Use

Excellent

Spreading Capability

Good

N Contribution Potential

Good

DM Potential

Fair

Forage Quality

Good

Harvest Time Frame (late/early/year-round)

Early

Number of Harvest/yr

Up to 2 per year

Other Comments

Best reseeding ability of the true clovers due to an ability to place seedhead into the soil and large seed size; excellent heavily stocked, grazed pastures.
Tolerance

Bloat Risk

Moderate

Disease Resistance

Excellent

Insect/Nematode Risk

Excellent

Cold Tolerance

Fair

Traffic Tolerance

Good

Heat Tolerance

Excellent

Drought Tolerance

Excellent

Shade Tolerance

Fair

Dry Soil Tolerance

Good

Wet Soil Tolerance

Good

pH Range

5.8-6.5

Required Fertility (P,K, other nutrients)

Tolerant of lower pH soils than most clovers; responds to P and K fertilization.