Patagonia INTA
Hairy Vetch
Patagonia INTA was bred in Southern Argentina for winter hardiness, early growth and high yields. It is an excellent choice for cover crop, wildlife and forage use where early spring growth is desired. It has tremendous branching and rooting and high nitrogen fixation.
Find A Dealer
Features
Early Maturity
Patagonia INTA is similar in maturity to AU Merit and about two weeks earlier than most other hairy vetch cultivars. When used as a cover crop, this means more biological N fixation (BNF) potential exists for early spring planted crops.
High Forage Yield
Patagonia INTA's early maturity also contributes to its high forage production and increased value for early spring grazing as well as early bio-mass for cover crops.
Winter Hardiness
Patagonia INTA was selected in Southern Argentina for improved winter hardiness and has shown excellent performance to date in trials in the United States.
Abundant Nitrogen
Patagonia INTA has shown the ability to fixate an abundance of nitrogen. This is useful for converting into both high-value forage feed as well contribution toward subsequent crop nutrition in cover crop applications.
Extensive Branching and Root System
Patagonia INTA has very extensive branching at the crown level and an abundant root structure, giving it good recovery from grazing and browsing as well as improving soil health and stability.
Attracts Wildlife/Pollinators
Patagonia INTA provides abundant forage and flowers ideal to attract and feed numerous pollinators and other wildlife habitat.
Development
Patagonia INTA was bred at the research station EEA H. Ascasubi of the National Institute for Agricultural Technology (INTA), in the southwest of Buenos Aires province. The variety is a result of a five-year selection period where multiple populations from the regions farmers were evaluated together and selected for faster establishment, high number of stems/plant, resistance to foliar disease and synchronized flowering time. Cold and drought tolerance and total biomass production were also important selection criteria. Breeder seed was first produced in 2010. This variety is registered in Argentina under the name of Ascasubi INTA and is sold in the United State as Patagonia INTA.
Patagonia INTA has shown high yields and excellent frost tolerance in different evaluations in both Argentina and the US. Furthermore, in US trials, Patagonia Inta shows excellent weed suppression, extensive branching and rooting, and high nitrogen fixation.
Lots of Nitrogen
Research from University of Tennessee and Mississippi State University confirm that Patagonia INTA is not only a high yielding variety capable of producing significant biomass, but it is also a leading nitrogen-fixing legume ideal for cover crop applications desiring the capture and conversion of free nitrogen.
Tennessee
The University of Tennessee conducted an extensive cover crop study in 2019-20, encompassing over 60 varieties planted in three locations representing east, west, and central regions of the state. In this trial Patagonia INTA was noted as one of the varieties which not only exhibited the highest biomass, best canopy cover (weed suppression), but also was amongst the top three for most nitrogen content, and greatest estimated nitrogen release. Read the complete study here. This study is expected to be duplicated over the fall/spring of 2020-21, with results expected by fall of 2021.
University of Tennessee
Nitrogen (Ton DM/A)
Multiple Locations
|
2019-2020
Variety
Total % Nitrogen
 
Termination
 
 
April
May
Ave
AU Merit HV
4.10
3.90
4.00
Patagonia INTA HV
4.00
3.50
3.75
WinterKing HV
3.90
3.40
3.65
Villana HV
3.80
3.50
3.65
Namoi Woolypod
3.80
3.30
3.55
Purple Bounty HV
4.00
3.00
3.50
Common Vetch
3.30
2.70
3.00
University of Tennessee
Estimated Nitrogen Release (Tons DM/A)
Multiple Locations
|
2019-2020
Variety
Total Estimated N Released after 12 weeks (lbs/ac)
 
Termination
 
 
April
May
Ave
AU Merit HV
44.30
91.70
68.00
WinterKing HV
40.00
61.70
50.85
Patagonia INTA HV
37.00
62.70
49.85
Common Vetch
18.70
70.00
44.35
Villana HV
25.30
61.70
43.50
Purple Bounty HV
29.00
53.30
41.15
Namoi Woolypod
27.00
46.00
36.50
High Yields
Patagonia INTA has been independently evaluate in the United States in Ohio, Tennessee and Mississippi. At each location, it has been one of the highest yielding hairy vetch entries.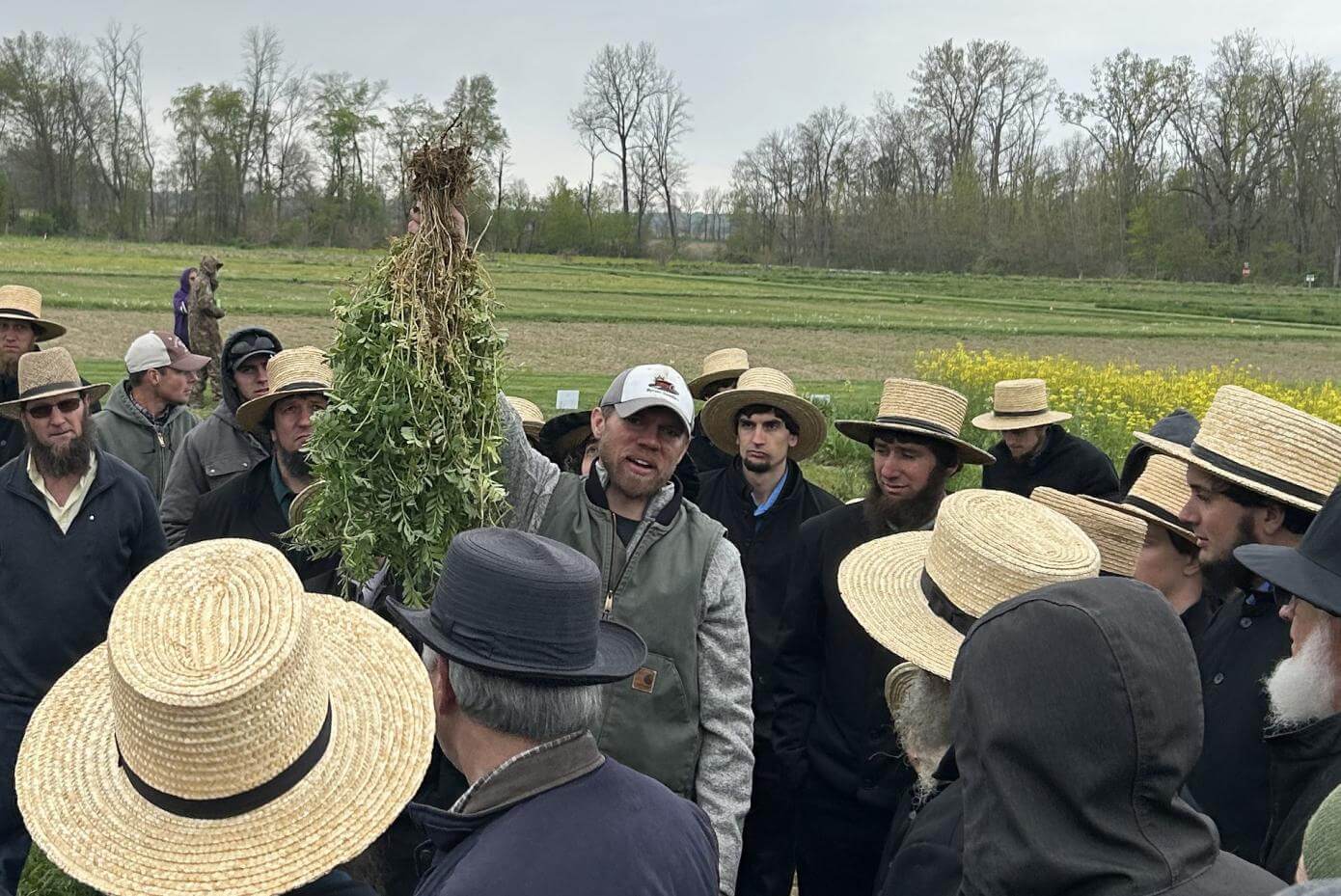 University of Tennessee
Biomass (Tons DM/A)
Multiple Location
|
2019-2020
| Variety | April Termination | May Termination | Ave |
| --- | --- | --- | --- |
| AU Merit HV | 1.20 | 2.30 | 1.75 |
| WinterKing HV | 1.20 | 1.80 | 1.50 |
| Patagonia INTA HV | 1.00 | 1.90 | 1.45 |
| Common Vetch | 0.60 | 2.20 | 1.40 |
| Purple Bounty HV | 0.80 | 1.90 | 1.35 |
| Villana HV | 0.70 | 1.60 | 1.15 |
| Namoi Woolypod | 0.80 | 1.50 | 1.15 |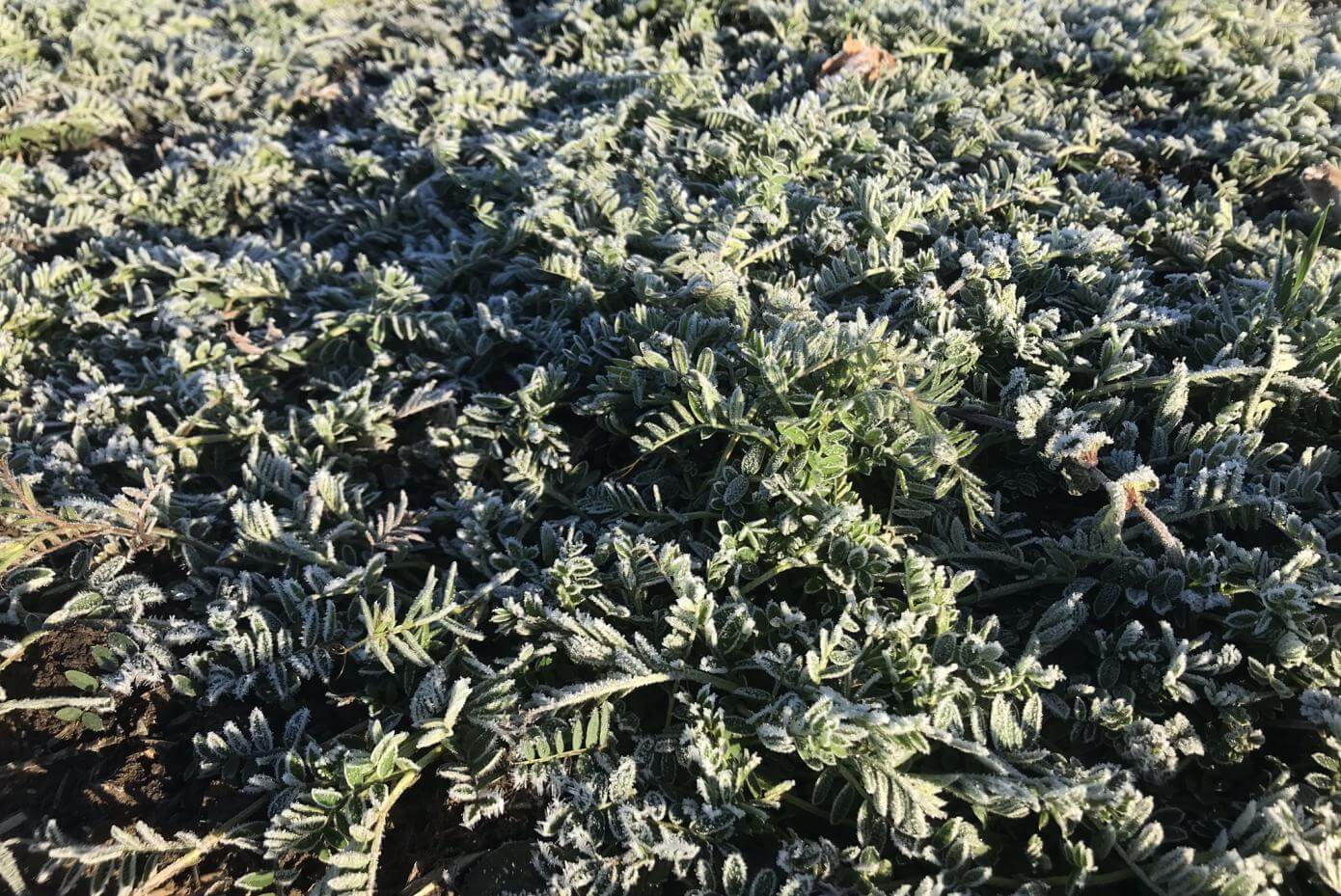 Winter Hardiness
In addition to trials in Argentina, Patagonia INTA was planted on September 11, 2019 in Central Ohio at The Ohio State University's South Charleston research farm. During that trial it not only produced 1.32 tons DM/ac by May 7, 2020, but also had a  94% stand. Patagonia INTA performed essentially equal to AU Merit and WinterKing hairy vetch varieties. Patagonia INTA has been entered again in the 2020-21 trial, with results expected by fall of 2021.
Abundant branching and healthy roots
In 2018, Patagonia INTA was part of a cover crop study that ended up accidentally turning into a grazing persistence study. From that study, we found that Patagonia INTA was well suited for intensive grazing and appears to exhibit abundant branching from the crown as well. It also has a fantastic root network. Watch these videos to learn more.
Weed Suppression
While hairy vetch may not be as fast growing as some weeds, varieties like Patagonia INTA can smother many weeds out and prohibit spring weeds from germination. With its abundant branching, leafiness, and tall growth Patagonia INTA has been shown to be a great choice to reduce unwanted weeds.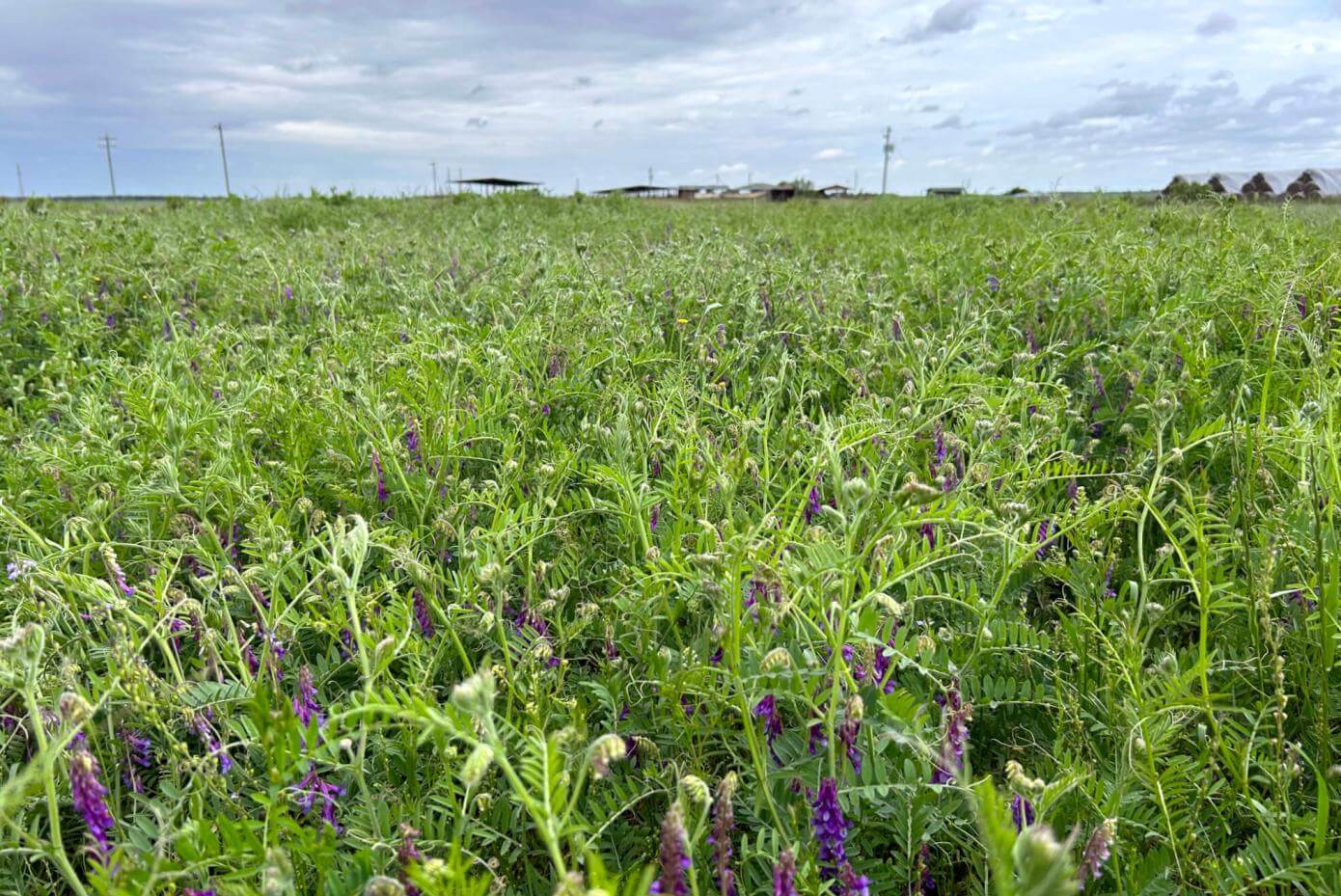 Coat for Optimal Performance
For optimal performance, Patagonia INTA should be inoculated with Rhizobium leguminosarum biovar viceae. This is best achieved with Nitro-Coat®.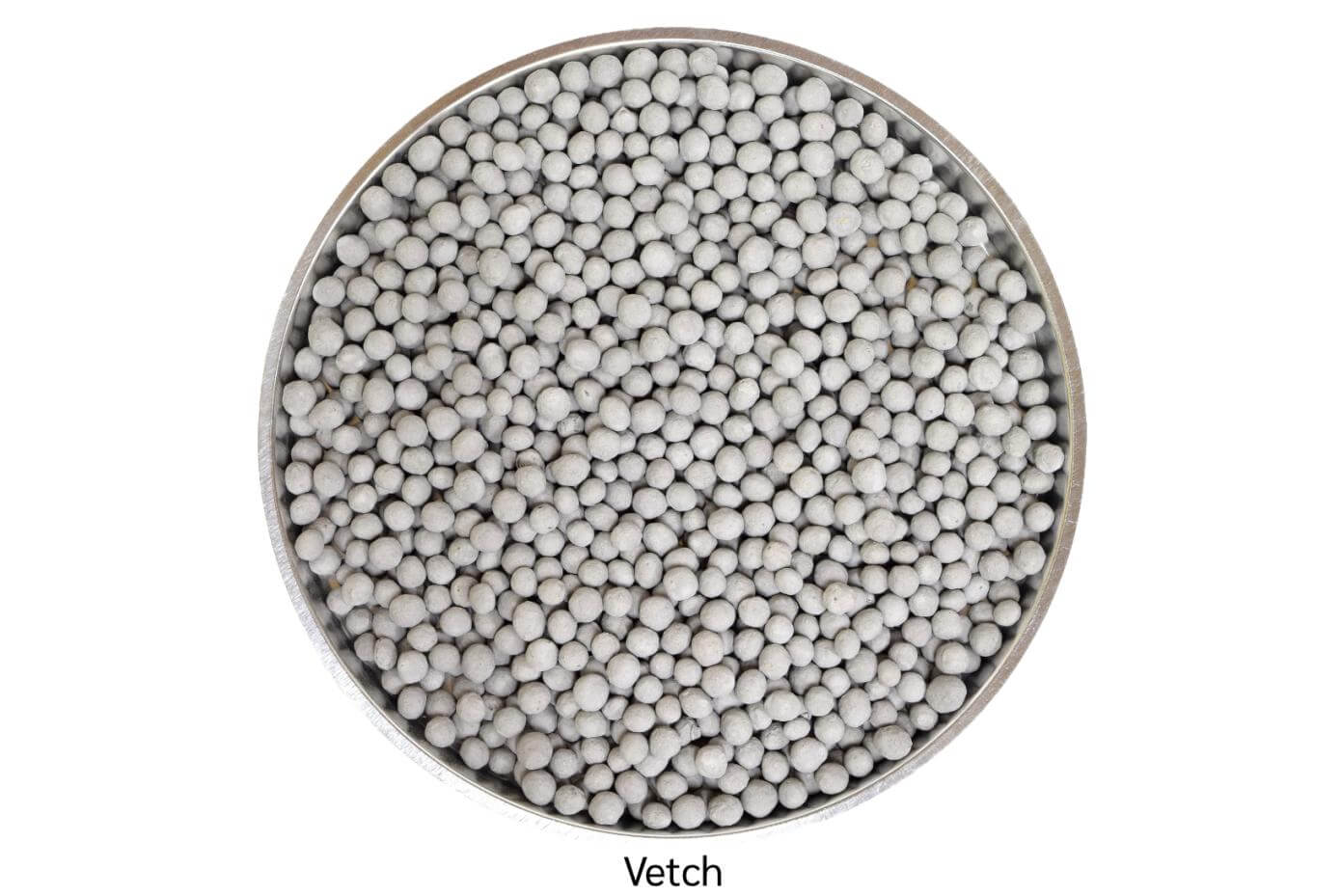 Planting Instructions
Patagonia INTA hairy vetch can be seeded at a rate of 10-40 lbs/acre depending on the mix or purpose. For best results, plant 3-6 weeks prior to the average first killing frost. Ideal seeding depth: ½–1½".
Termination
Roll kill, selective or non-selective herbicide allows for no-till seeding into terminated stand.
Seeding Rate
Pure Stand (Drilled)
15-20 lbs/ac
Pure Stand (Broadcast)
25-40 lbs/ac
In a Mix (Drilled)
10-15 lbs/ac
In a Mix (Broadcast)
15-20 lbs/ac
Planting Dates
3-6 weeks prior to the average first killing frost
Planting Map