Crimson
Trifolium Incarnatum
Crimson clover is striking to behold, with brilliant color and a uniquely shaped flower. Yet there's more to this variety than aesthetics. It is a dependable, high-yielding, annual clover.
Find A Dealer
A long history.
Crimson clover, also called "scarlet" or Italian clover, is native to southeastern Europe and southwestern Turkey. The first introductions into the United States came from Italy in the early 1800s and it then spread rapidly throughout the southeastern states.
Easy to distinguish, beautiful to behold.
Crimson clover is a winter annual with dark green, oval leaflets containing no V-shaped water mark making it easy to distinguish from other annual clovers. It has hairy stems and leaves and brilliant crimson flowers producing yellow rounded seed that are about 2.5 times larger than arrowleaf seed.
Growth comes easily.
Crimson's large seed is responsible for its ability to easily establish in most seedbed conditions including simple broadcasting in un-tilled areas. Crimson prefers well-drained soils and pH between 5.0-6.5. Current varieties do not have good winter hardiness. It is the fastest growing of the annual clovers, easy to establish, and handles shade well - even the shade of other crops, like standing corn.
Widely used as a cover crop and as forage.
Crimson clover is widely used in the South as a dependable, high-yielding, early maturing, annual forage and roadside crop. It is also fast becoming a reliable cover crop for the North, as it has better growth at lower temperatures than most annual clovers. Crimson is also a good weed suppressor, organic matter increaser, and erosion controller. Forage production is high in protein and tonnage - up to 6,000 lbs. DM/acre. Bloat can be an issue, but usually not as likely as with white clover or alfalfa.
Nitrogen producer.
Crimson can provide nitrogen credit for succeeding crops of 70-150 lbs. N/A. In order to achieve optimal nitrogen fixation ability, crimson clover needs to be inoculated with Rhizobium leguminosarum biovar trifolii. This is best achieved with Nitro-Coat®.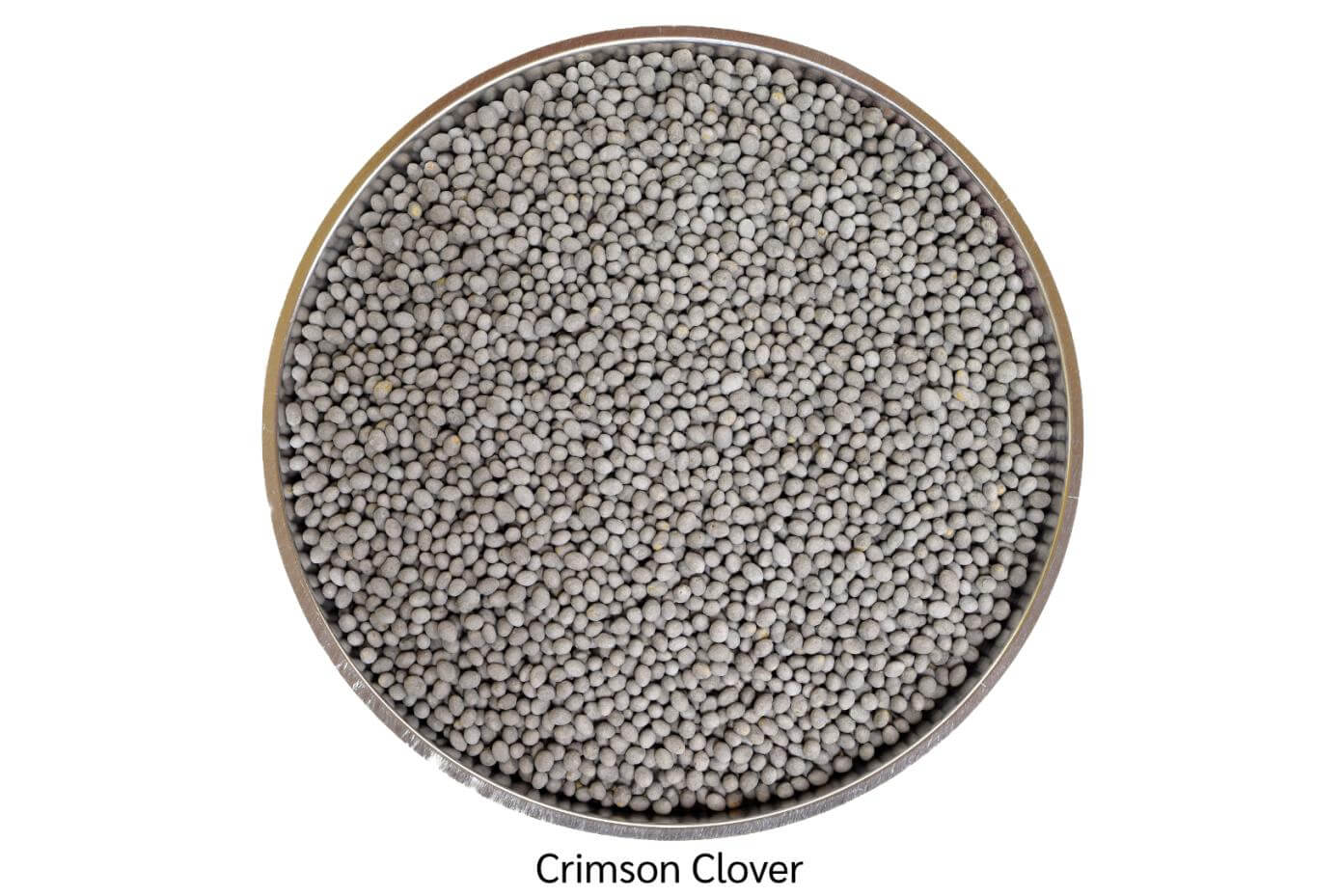 What we recommend.
Dixie is the most popular variety on the market.
Crimson Clover Specifications
Planting

Zones

Zones 7, 8 and upper part of zone 9

Longevity

Annual

Ease of Establishment

Excellent

Seeds/lb

150,000

Seeding Rate - Straight

20-30 lbs/ac

Seeding Rate - Mix

15-20 lbs/ac

Seeding Time

September - Early November

Seeding Depth

3/8 - 1/2"

Seeding Method

Broadcast or drilled (preferred)

Method of Killing/Suppression

Mowing; grazing; chemical

Optimal Germination Temperature

Night temperatures > 40°F

Seedling Emergence/Vigor

Excellent

Reseeding Potential

Excellent

Root Type

Tap
Usage

Grazing Potential

Good

Hay Potential

Good

Use with Wildlife

Good

Use in Orchards

Good

Use with Row Crops

Good

Use with Other Grasses/Legumes

Good

Bees/Beneficial Insects

Excellent

Compaction Control

Good

Erosion Control

Excellent

Weed Suppression Potential

Excellent

Green Manure/Cover Crop Use

Excellent

Spreading Capability

Fair

N Contribution Potential

Good

DM Potential

Good

Forage Quality

Good

Harvest Time Frame (late/early/year-round)

Early

Number of Harvest/yr

2 - 3 per growing season

Other Comments

Will produce more forage than other clovers at low temperatures; excellent for roadside beautification.
Tolerance

Bloat Risk

Moderate

Disease Resistance

Moderate - susceptible to crown and stem rots

Insect/Nematode Risk

Moderate - susceptible to clover head weevils

Cold Tolerance

Good

Traffic Tolerance

Good

Heat Tolerance

Good

Drought Tolerance

Good

Shade Tolerance

Good

Dry Soil Tolerance

Good

Wet Soil Tolerance

Good

pH Range

5.0 - 6.5

Required Fertility (P,K, other nutrients)

Tolerant of lower pH soils than most clovers; responds to P and K fertilization.