Berseem Clover
Trifolium Alexandrinum
Berseem's value as a legume crop has been known for centuries. It grows fast and produces large amounts of forage and nitrogen.
Find A Dealer
The past and the present.
Also called Egyptian clover, referencing its origin, Berseem clover has been a very important annual legume crop in the Nile Delta for thousands of years. Interest in Berseem in North America continues to grow for many uses, including: cover cropping, non-bloating forage production, green manure, and honey production.
Likes to stay warm.
Like all good things, berseem has its limits. A main one is cold temperatures. It dies when temperatures fall below 20°F for multiple days. Being a winter-susceptible annual in the North, berseem is used as a summer and fall annual, and as a winter annual in southern climates. Berseem wakes up after soil temperatures hit the mid 40°'s, but really starts to grow at 65°F and warmer. It is susceptible to frost kill in spring plantings. Berseem has a shallow taproot making it susceptible to droughty conditions. Berseem does better on non-sandy soils and prefers more alkaline soils to acidic soils. It can tolerate a bit of wet ground.
Useful as a cover crop and with other grains.
Berseem is especially useful as a natural-kill cover crop and works very well with companion grain crops like oats, grasses, and alfalfa. It is also great for giving quick browse for wildlife.
Good eating.
Berseem's fast growth converts into significant forage biomass and nitrogen. It has the ability to produce up to eight tons of dry matter (under irrigation).
Nitrogen producer.
Berseem can fix 200 pounds or more of nitrogen per acre. In California, an average of 280 lbs of N/ac was reported under a six-year trial. For optimal performance, berseem clover should be inoculated with Rhizobium leguminosarum biovar trifolii. This is best achieved with Nitro-Coat®.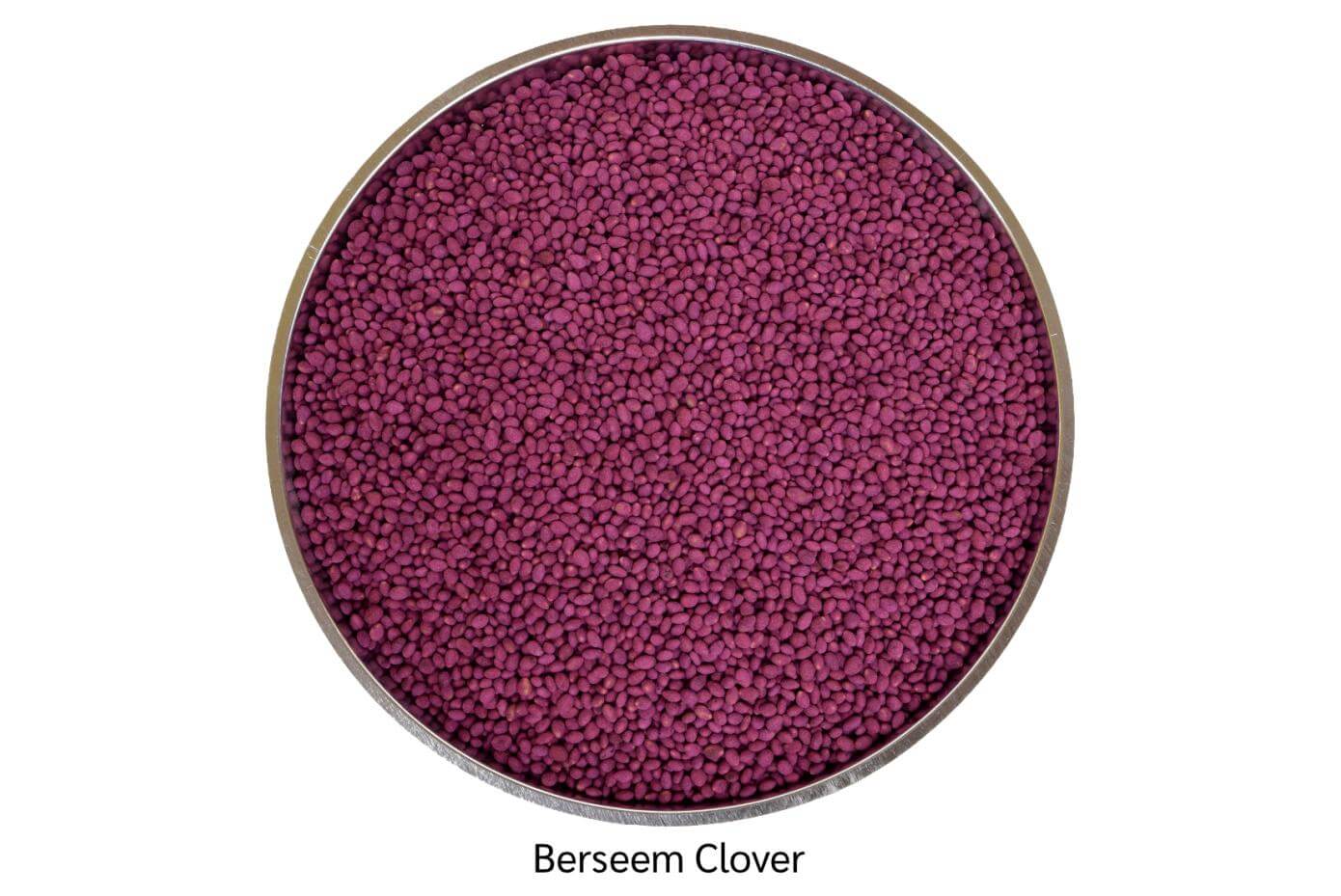 Berseem Clover Specifications
Planting

Zones

8 and 9

Longevity

Annual

Ease of Establishment

Excellent

Seeds/lb

200,000

Seeding Rate - Straight

10-15 lbs/ac

Seeding Rate - Mix

8-12 lbs/ac

Seeding Time

September - October

Seeding Depth

1/4 - 3/8"

Seeding Method

Broadcast or drilled (preferred)

Method of Killing/Suppression

Mowing; grazing; chemical

Optimal Germination Temperature

Night temperatures > 50°F

Seedling Emergence/Vigor

Good

Reseeding Potential

Fair

Root Type

Tap
Usage

Grazing Potential

Good

Hay Potential

Excellent

Use with Wildlife

Excellent

Use in Orchards

Good

Use with Row Crops

Good

Use with Other Grasses/Legumes

Good

Bees/Beneficial Insects

Good

Compaction Control

Good

Erosion Control

Good

Weed Suppression Potential

Good

Green Manure/Cover Crop Use

Excellent

Spreading Capability

Fair

N Contribution Potential

Excellent

DM Potential

Excellent

Forage Quality

Good

Harvest Time Frame (late/early/year-round)

Early

Number of Harvest/yr

Up to 3 harvests

Other Comments

Poor winter hardiness therefore not recommended north of zone 8.
Tolerance

Bloat Risk

Rare

Disease Resistance

Poor

Insect/Nematode Risk

High

Cold Tolerance

Poor

Traffic Tolerance

Fair

Heat Tolerance

Excellent

Drought Tolerance

Good

Shade Tolerance

Good

Dry Soil Tolerance

Good

Wet Soil Tolerance

Good

pH Range

Best on loam soils with pH > 6.5

Required Fertility (P,K, other nutrients)

Requires high fertility (more like Alfalfa) including the addition of Boron.